A few years ago, when it comes to buying a bag, I taught everyone the core idea is a phrase: buy a bag on the classic model! Many girls buy bags to buy more, will find this theory is still very wise. Classic models of bags are not easily outdated, and very durable, but also continue to appreciate!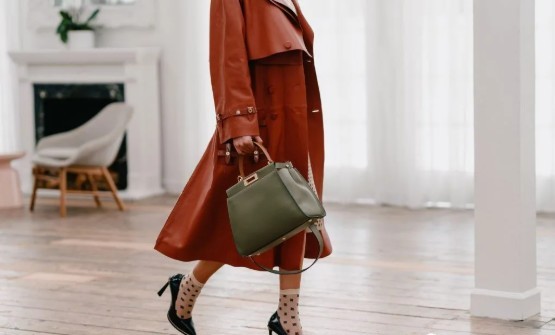 But when you buy more and more bags, you may find that the classic models of bags that you like are almost all there. And carrying a classic model bag out, there is not a very fashionable and leading feeling. If you have bought a bag to this stage, it may not be appropriate to continue to buy only classic models of bags.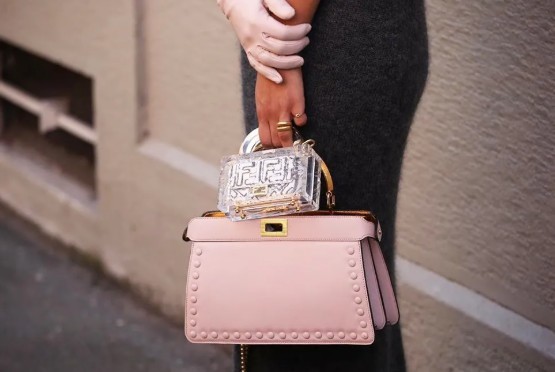 Now you, probably the most suitable to get some back out very powerful, and not so easily out of date, in their own bag cabinet shining when the bag models! To say which bag most recently meets the above criteria, I would recommend this one the most! That is Fendi's latest Fendi Pack small box!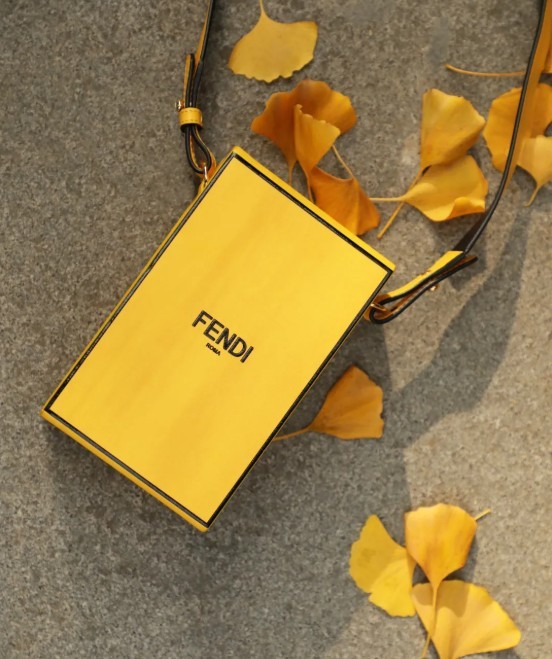 This cute little box comes from Fendi Roma Holiday collection launched by Fendi in autumn/winter 2020. The whole series of style sunshine, young, full of vitality, is the kind of bag that you will like at first sight.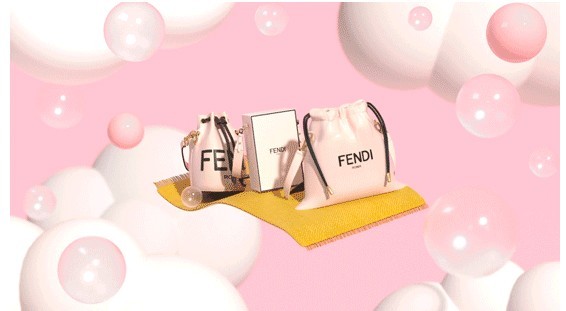 This bag has actually been famous for a long time! When it appeared on the show floor, the models hold in their hands and shoulders, all of them are such small yellow box bag. At that time, many boys and girls who love the bag have been discussing this bag like crazy. I also at that time, like this bag, immediately added it to their Wishlist.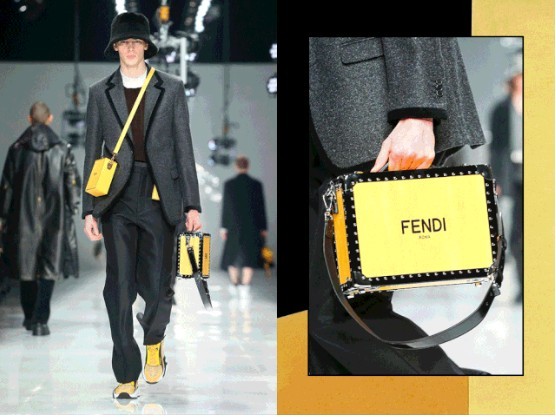 Fendi 2020FW Menswear Show
Recently, this bag has finally hit the market! Many stars have been early to carry out, yellow is very eye-catching, indeed, after the body look good!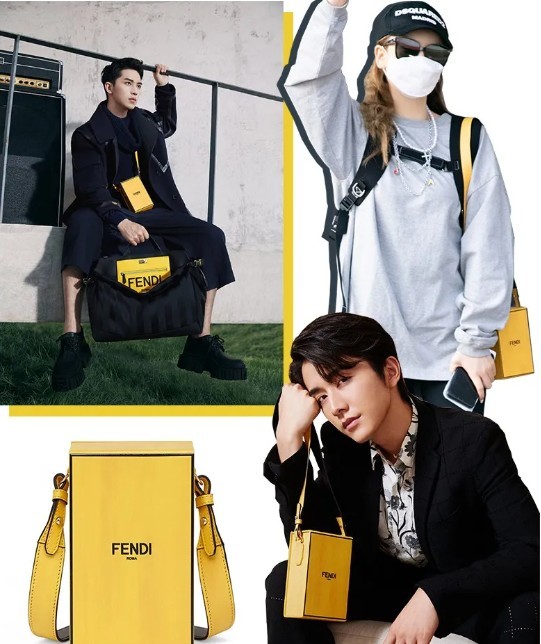 Xu Weizhou, Qi Wei, Zhang Xincheng
And the price of this series of bags is also surprisingly good! Familiar with Fendi's bag fans should know that Fendi's bags have always been in the big-name bags, considered the more expensive class of prices.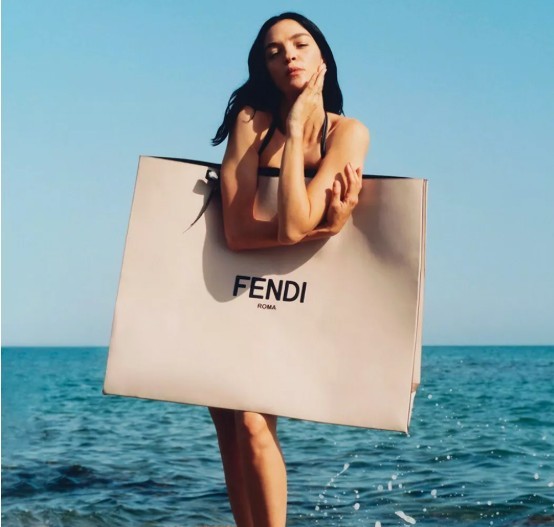 And generally the major brands of box bags, the price is also on the expensive side. Perhaps because of this more rigid design of the bag, the production process and design are more complex, is often a higher price of advanced bag models. But this time Fendi Pack small box bag, actually as long as $1600 + head!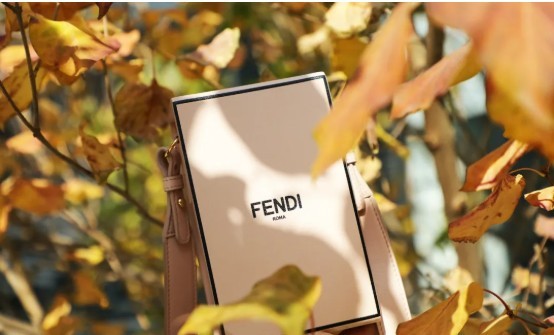 You may be curious, feel Fendi Pack design, seems to be particularly similar to Fendi's packaging. Fendi Pack's design is inspired by Fendi's three-piece packaging set. The box, dust bag and shopping bag, respectively, corresponding to the Fendi Pack series of box bag, drawstring bag and handbag these three bags.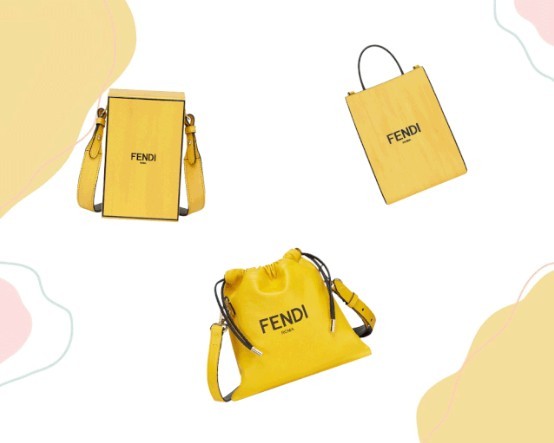 This is not the first time Fendi has launched such a special bag design, Fendi's design in the past two years, really more and more daring! Like the previous California Sky series, the graffiti lines are painted on the Peekaboo to create a very cool 2D animation effect.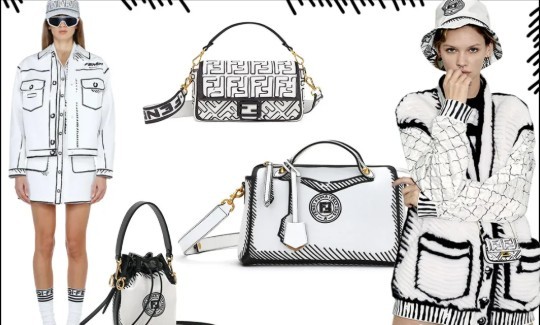 This time Fendi Pack is also very cute, with clean lines and bright colors, just like the pixel wind games you played as a child. Recently the weather has cooled down, many people love to wear dark clothes, with such a color and shape are quite bright bag, the whole look will become full of energy.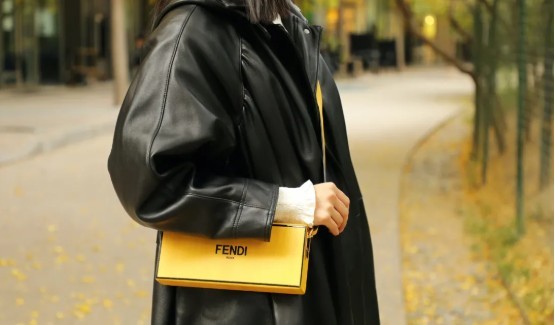 In fact, many bag-loving girls have gradually formed their own style system in terms of buying bags. Many people buy so many bags throughout the year, and finally feel the difference is not much, may be all black or brown system. And Fendi Pack this bag, is definitely the kind of very fun, more stand out of the bag. Occasionally buy a bag like this, will bring a different style to their own bag cabinet.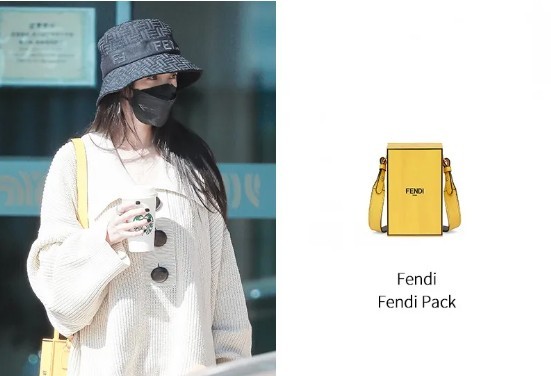 Yang Mi
Although the design of this series of bags is very special, but in fact the Fendi Pack bag body design is very simple, more eye-catching design elements, only the front Fendi Logo.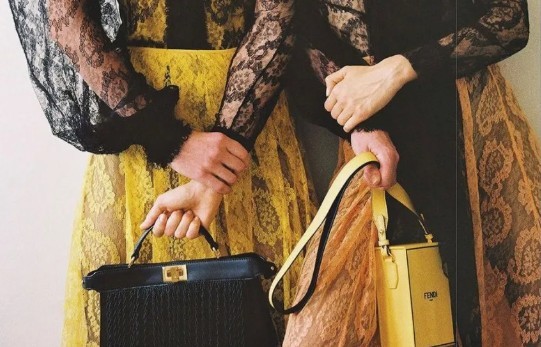 Some people may not like the design of the logo so conspicuous when they buy the bag. But because Fendi Pack is evolved from the box, so the logo on top instead becomes very reasonable.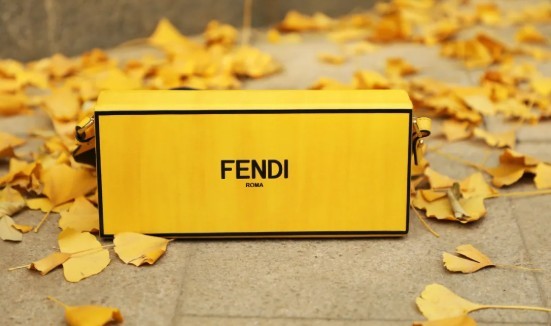 In the Fendi Pack series, my favorite thing is the various square little boxes! This time there is a horizontal version and vertical version, two different designs. The yellow vertical version of the small box on the back is very energetic, especially street sense!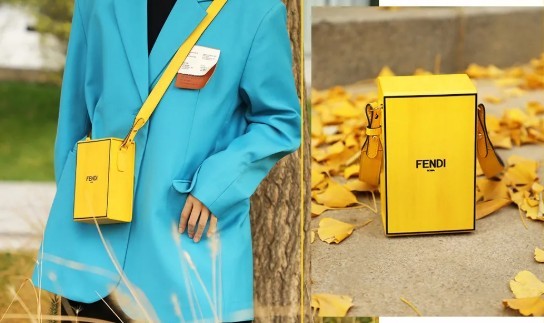 The horizontal version of the small box is more like a delicate clutch bag, especially the creamy pink style, more rich lady feeling.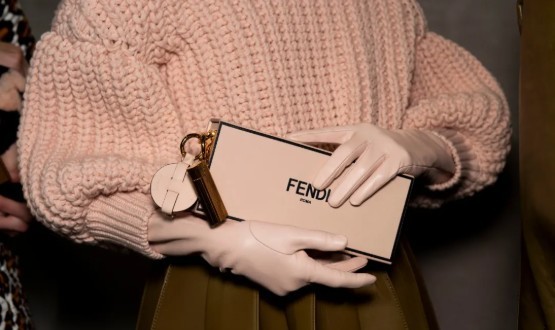 Don't look at this series is inspired by Fendi's packaging, in fact, the physical texture of this series of small boxes is very good. The leather of the body of the package is very delicate, while maintaining the hard shape of the small box very well.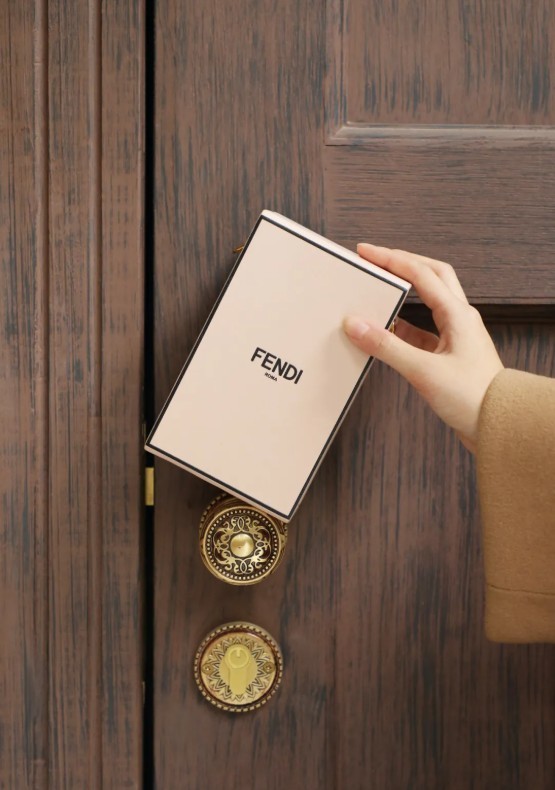 Not only does it look like a box, the way the little box opens and closes is as simple as a real box! It has a hidden magnet suction clasp at the opening, so when you want to take something, you can easily open it.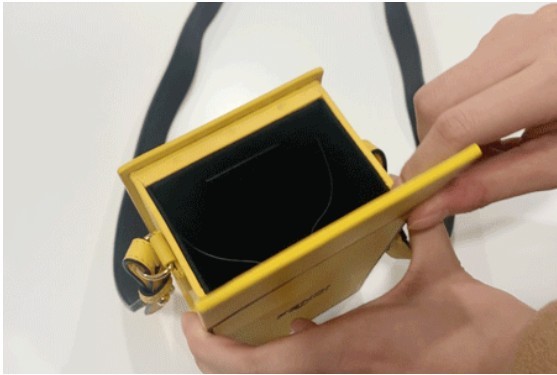 As a box bag, I didn't expect it to have a good capacity. Before I saw the real thing I was worried about whether it could put down my phone, but it turned out that not only could I put down my phone, but I could also put lipstick, powder, hand cream, headphones and several other things. I can say that it is a very competent small box!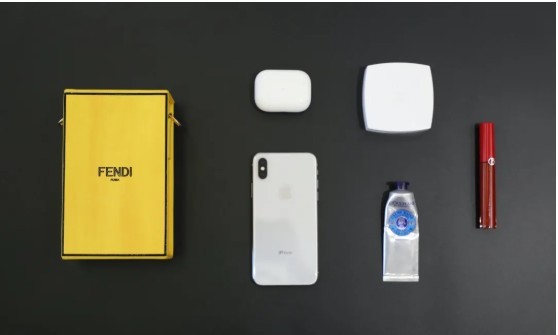 And this bag is great on both boys and girls! The little yellow box is actually a male model itself, so boys carry it, looking especially reasonable, very chic and juvenile. Girls on their backs, there will be a kind of quirky elfin temperament, very playful.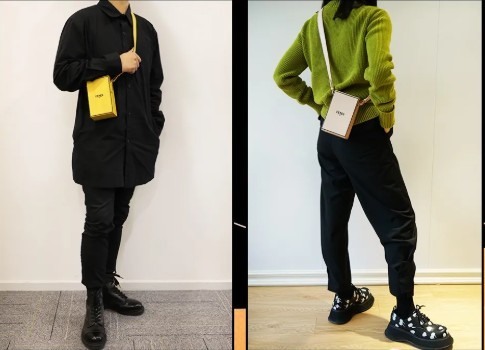 If you don't like the angular design of the small box or the hard bag, you can also choose the Fendi Pack collection of drawstring bags and handbags. The drawstring bags and handbags feel a bit more soft and casual than the ghostly little boxes.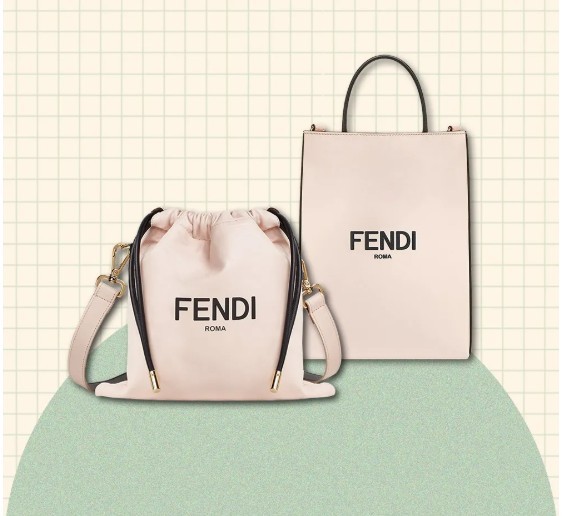 This bag uses the vertical tote design that is very hot right now, which looks fashionable and very special. And with the street style trendy clothes and sneakers also look very good, handsome and personality, young sense.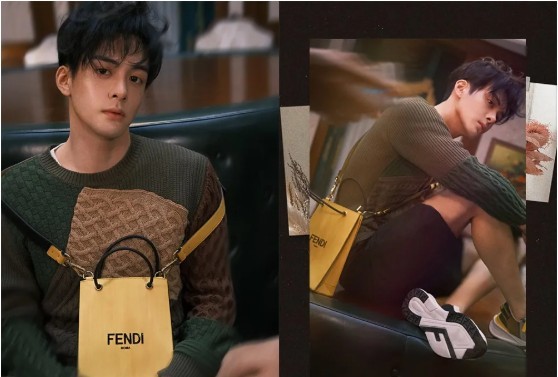 Zeng Shunxi
And this bag also has a shoulder strap, so it can not only hand-carried, but also crossbody. Usually when you go out with little stuff, you can carry it as a handbag. Sometimes there are many things in your hand, crossbody back can also free your hands and become more convenient.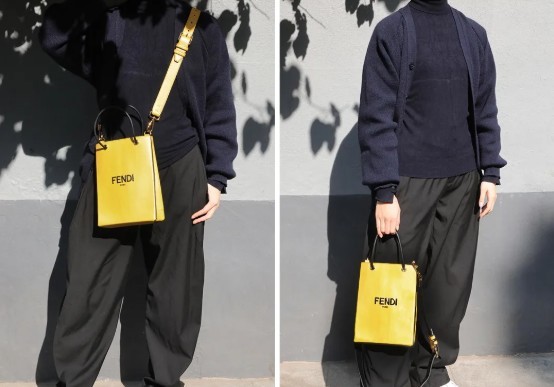 What's special is that there is a magnetic closure on the side of the bag, which can play a role in closing the mouth after sucking it on. Compared to most open tote, Fendi Pack will be safer after the closure, while the bag shape is also much more elegant.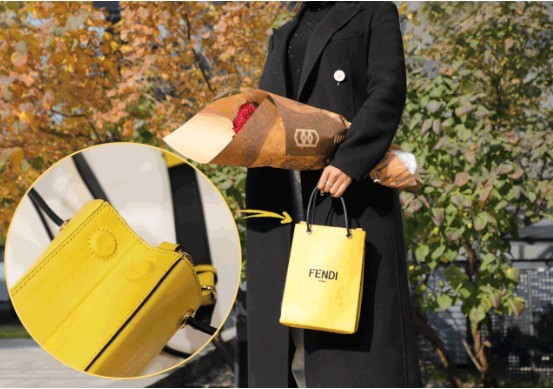 This handbag comes in many different sizes. Oversized handbags are super handsome! But oversized handbags on the runway can be a little difficult for the average person to handle. People really buy, I still recommend the mini models. The aura and chicness are there, but also more suitable for everyday use.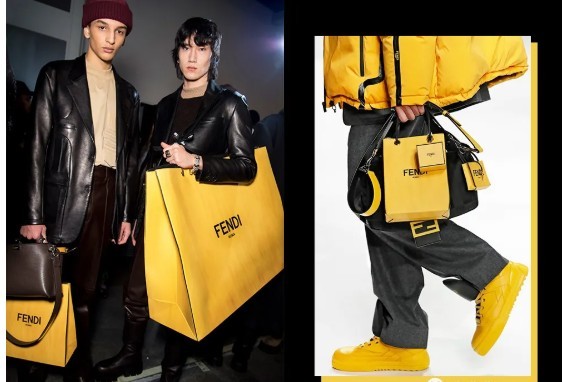 The drawstring bag in the Fendi Pack collection is soft and feels especially good. Although its shape is rather irregular, this bag has a kind of street laid-back and self-effacing feel, easy and well-fitted, which is perfect for taking out on a trip.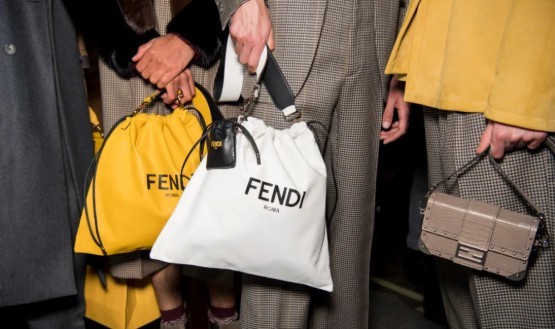 Fendi Pack several bags in bright yellow and light pink, which is also the main color of the entire Fendi Roma Holiday collection. Two colors are two different styles, both very eye catching!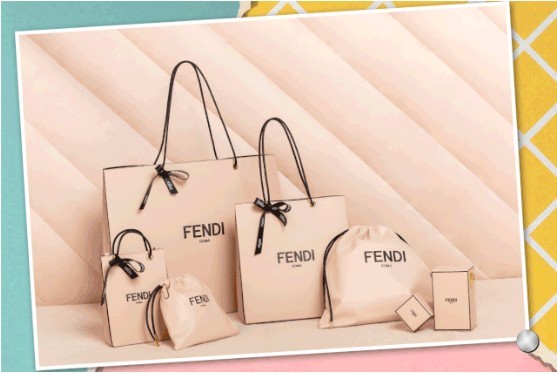 Yellow is always popular as Fendi's signature color. This bright yellow color is lively and jumpy, which makes people feel happy when they look at it. Sometimes there is not much spirit to go to work in the morning, see this color, you will feel the day is lit up.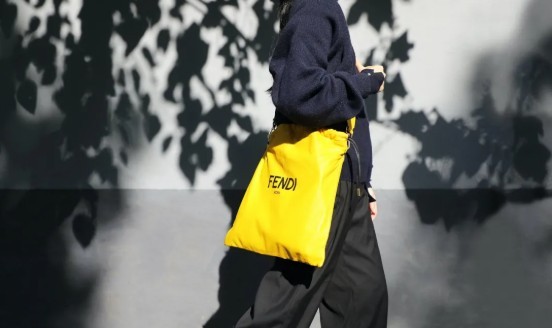 And it is not a single yellow used on the small box, but a three-dimensional double color scheme of orange and yellow. The orange color block on the main color of bright yellow reckless halo, like a watercolor painting, full of artistic sense.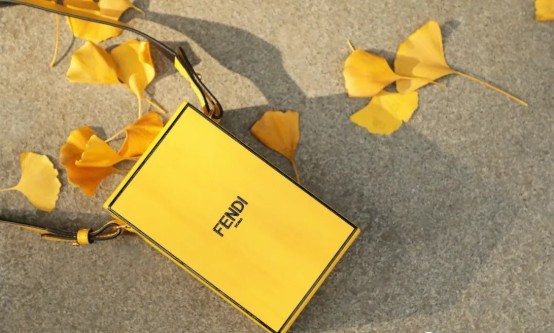 Although the yellow is very bright, but in fact this yellow is more on the neutral side. Both boys and girls can carry it, and it is also very easy to match a very good effect. Like love fashionable boys, casual with a jacket and then carry this bag, you can brighten up a look, full of sunshine handsome energy.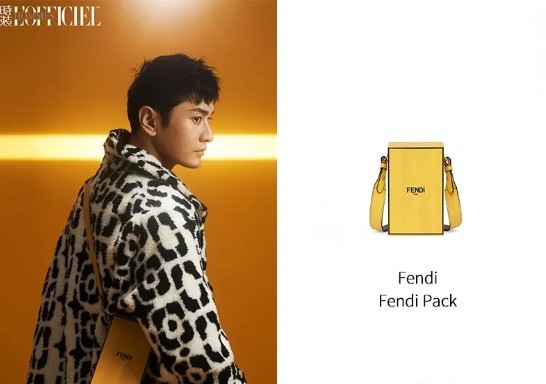 Huang Xiaoming
Girls carry of course also very good-looking! Unique bright colors, walking on the road can definitely stand out from the crowd. Have a personality, show taste, and very attitude.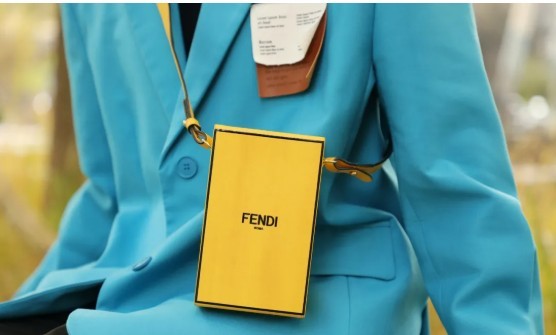 The light pink in the series is a light and light pink like buttercream frosting, which looks sweet, gentle and very affectionate. This color in the fall of leaves in late autumn, or snow days back are particularly appropriate, full of simple and beautiful feeling.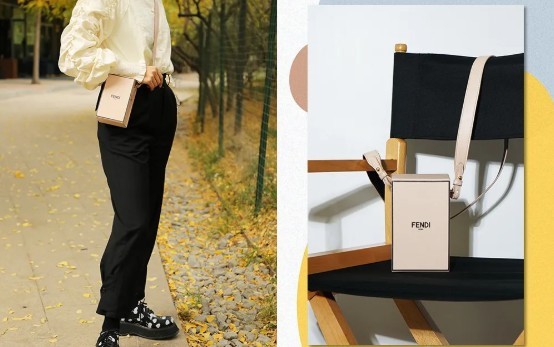 Many people love pink bags, but pink is inevitably a little pretentious after looking at it for a long time. But Fendi's pale pink is not this problem at all. This light pink, light, not fluorescent, full of girlhood. Compared to death Barbie pink or other fluorescent pink, more advanced and durable.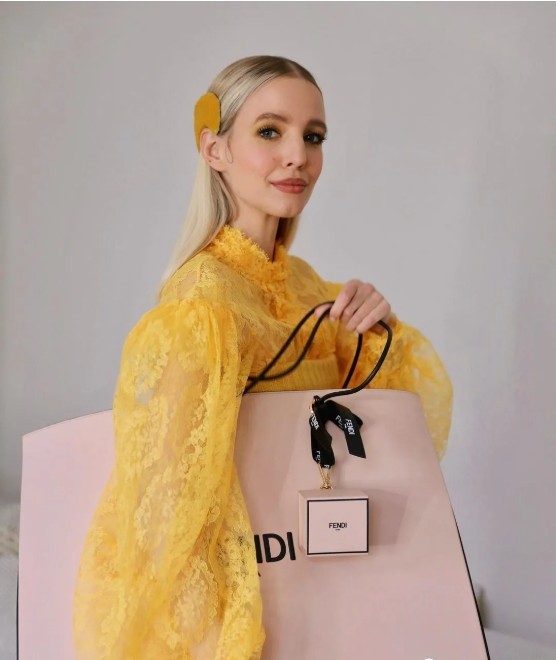 Leonie Hanne
The pink color is also particularly suitable for matching dresses. When attending formal occasions, choose a pink Fendi Pack as a dinner bag, which will definitely stand out from the crowd of ordinary dinner bags.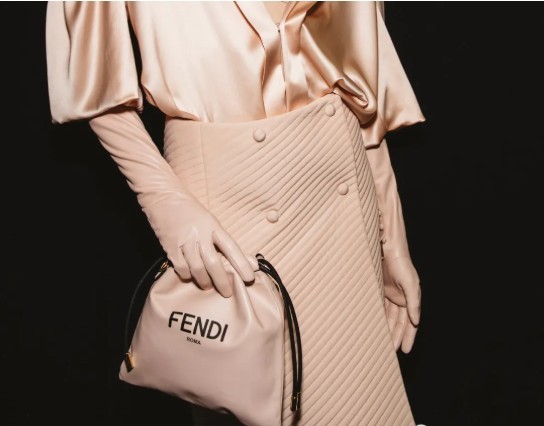 The Fendi Pack is a collection of small boxes and bags that belong to the Fendi Roma Holiday collection, which features a bold and bold Fendi Roma logo, just like street graffiti. When you look at the items in this collection, there is a casual and comfortable vacation feeling.
Fendi Roma Holiday collection in addition to Fendi Pack bags, there are also some interesting items. Like the scarf and the sweater I also recommend! Especially in winter, both windy and maintain the temperature, fashionable and at the same time can keep warm.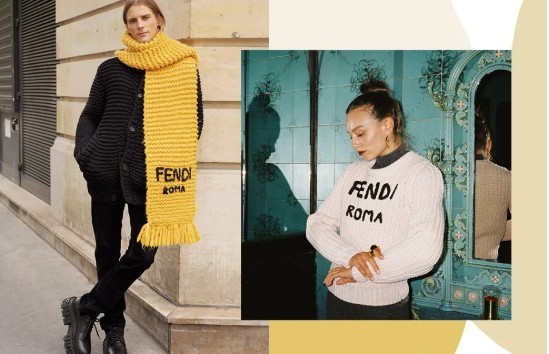 I attended Fendi Roma Party held by Fendi in Shanghai two days ago, carrying this chic and super cute little box on my back.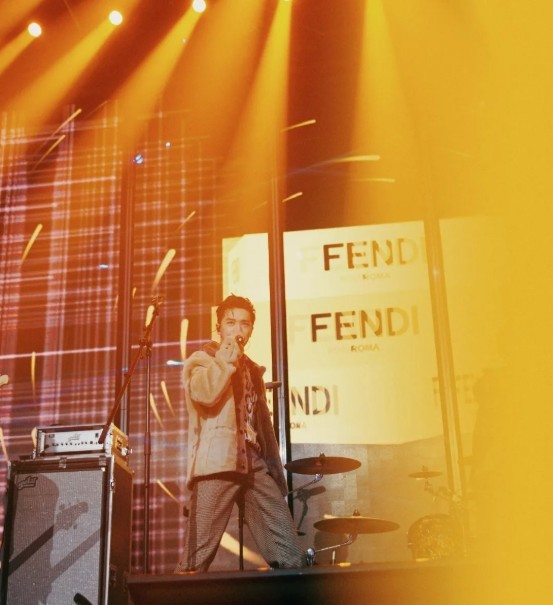 Xu Weizhou
Not only did Fendi have such a fun party, but they've been making a lot of moves lately! At the annual ART021 Shanghai 21 Contemporary Art Fair, Fendi also held the Artist Baguette Collection Exhibition, featuring 10 unique artist collaborations!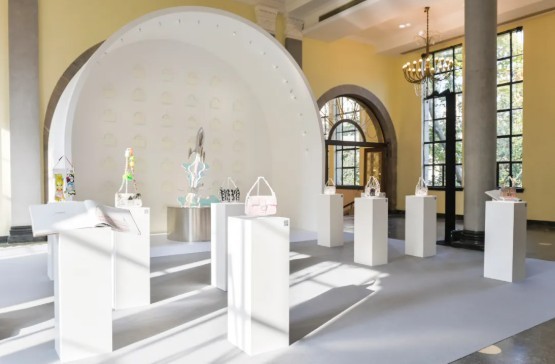 Among the 10 artist collaborations, the most special one is the "Infinite Possibilities of Baguette" designed by Tan Zhuo, Fendi China's art ambassador, which is placed in the center of the exhibition.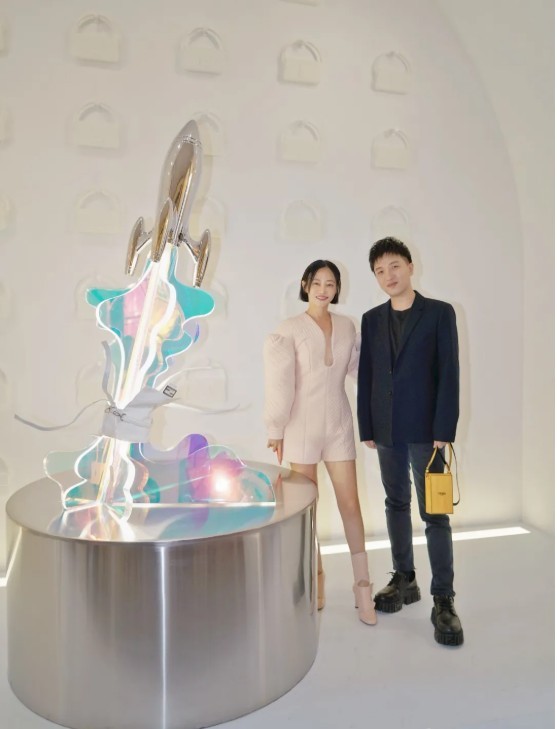 The main shape of this art installation is a silver rocket shooting up from the Baguette. The shape is very eye-catching and full of wild imagination. Tandra also wanted to use this art installation to show that everything in life is full of infinite possibilities, which is cool and I like it too!
Tan Zhuo
Well, the new Fendi Pack is introduced to you here. How about it? Do you like Fendi's little box this time?
Shopping replica bags Now:
Best quality replica designer bags online shopping
Buy best quality replica Louis Vuitton bags 
Buy best quality replica Chanel bags
Buy best quality replica Dior bags
Buy best quality replica Gucci bags
Buy best quality replica Hermes bags
View More fake bag Blogs:
Top 10 Replica designer bags worth buying (2022 updated)
How to spot a fake designer bag? (fake vs real photos)
Hermes replica bag blog collection (2022 updated)
Louis Vuitton replica bag blog collection (2022 updated)
Chanel replica bag blog collection (2022 updated)
Dior replica bag blog collection (2022 updated)
Gucci replica bag blog collection (2022 updated)
Quality Details of Louis Vuitton Replica Bag
Quality Details of Chanel Replica Bag
Quality Details of Dior Replica Bag
$19 Buy High Quality Replica Designer Wallet or card holder (only 1 piece for each account)